A pitch competition provides an opportunity for entrepreneurs to demonstrate their company plan or product in exchange for funding. Aspiring entrepreneurs may use these challenges to hone their business abilities, raise publicity for their business concept or product, and possibly earn funding to help them achieve their goals. We offer regular pitch competitions for our members in front of a panel of experienced judges and an audience of potential investors. Our relationships with prominent VCs have allowed us to offer prizes of up to £150,000 in investment for winning startups of our contests! (See our events calendar for the next available events)
Normally we host our pitch events and competitions in London however we are expanding to offer competitions across the UK and in New York. We also live stream our pitch competitions online and recordings are normally available shortly after.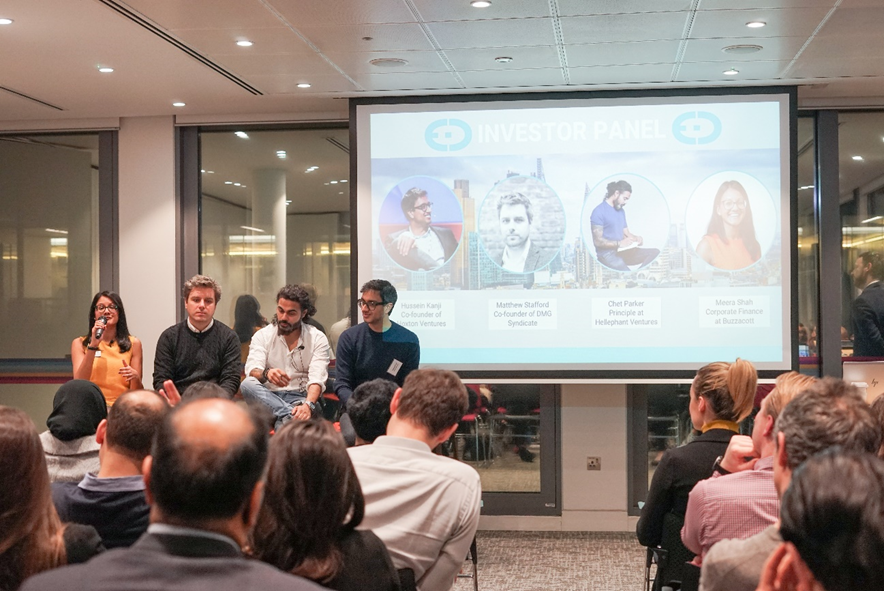 "After joining the Entrepreneurs Collective Community, I was given the opportunity to pitch at Home Grown Private Members Club. It was a great experience and even though NOQ placed 3rd with the investors who were judging, a VC watching online reached out to the EC team to set up a meeting right in the middle of my pitch! I am already working on my deck with an advisor from EC and am looking forward to what comes next."
How can participating in pitch competitions benefit you?
Finetune your message : Preparing for a pitch event takes a significant amount of time. Start-ups can use this period to examine their product, concept, or invention more closely, validate that its positioning and qualities meet a market need and are on trend, and craft a compelling story that positions it for success.
Gain visibility: The correct pitch competition will allow start-ups to achieve high-impact publicity for their product, concept, or innovation among key industry leaders, investors, possible business partners, relevant media sources, and even prospective customers, thanks to the judges and audience members.
Build strategic connections: Pitch contests provide participants the chance to network with other competitors, engage with mentors and investors, and learn about new resources for entrepreneurs. Start-ups will surely get feedback as a result of this approach, which will help them enhance their business strategy, value proposition, or messaging, as well as perhaps lead to investment.
"The female founders Pitch Competition was fantastic and the energy in the room was electric!"
How to prepare for a pitch event?
Refine and streamline your pitch deck: Make sure your deck responds to the major questions that will be on your audience's minds during your presentation. Address the issue, solution, market size, potential, competition, finances, marketing plan, team, and how you intend to use the funds.
Get your pitch reviewed by someone outside your company. Having your pitch deck analysed by someone who has seen hundreds of them can help you determine where the flaws are. At EC we have a professional team that takes charge of reviewing and advising people regarding their pitch decks.
Refine your deck again: Take the time to make the required modifications that you were instructed to make. Even though it's tempting to attempt to get by with your present deck.
Rehearse your presentation: Most individuals underestimate the number of times they should practise before a pitch contest or presentation. Practise it as many times as necessary until you can go through it without questioning what will happen next. Therefore, you wont be focused on trying to recall your pitch and it will go a lot smoother. You'll be more completely present in the moment and able to convey your enthusiasm.
Be ready for questions: After you've given your pitch, most pitch competitions include a quick question-and-answer session. Be ready with answers to every common and difficult question you could be asked, and practise giving them. Smart investors will want to know that you can objectively recognise possible hurdles know how to overcome them.
At Entrepreneurs Collective, one of our many events consists of Pitch Competitions, usually once every month. We invite Investors to come and judge, a few names consist of Chet Parker, Nick Telson, Philip Green, Barbara Brudenell-Bruce and Kayar Raghavan.
Want to Attend our Pitch Contest?
Our pitch comps events are usually located in Central London venues and livestreamed online for all our worldwide viewers. We accept applications from startups who are bootstrapping right through to Series A. Pitch event slots in front of our investors are always in high demand and priority for places is given to our members, so if you are interested in attending, book your ticket at the next available event below without delay!