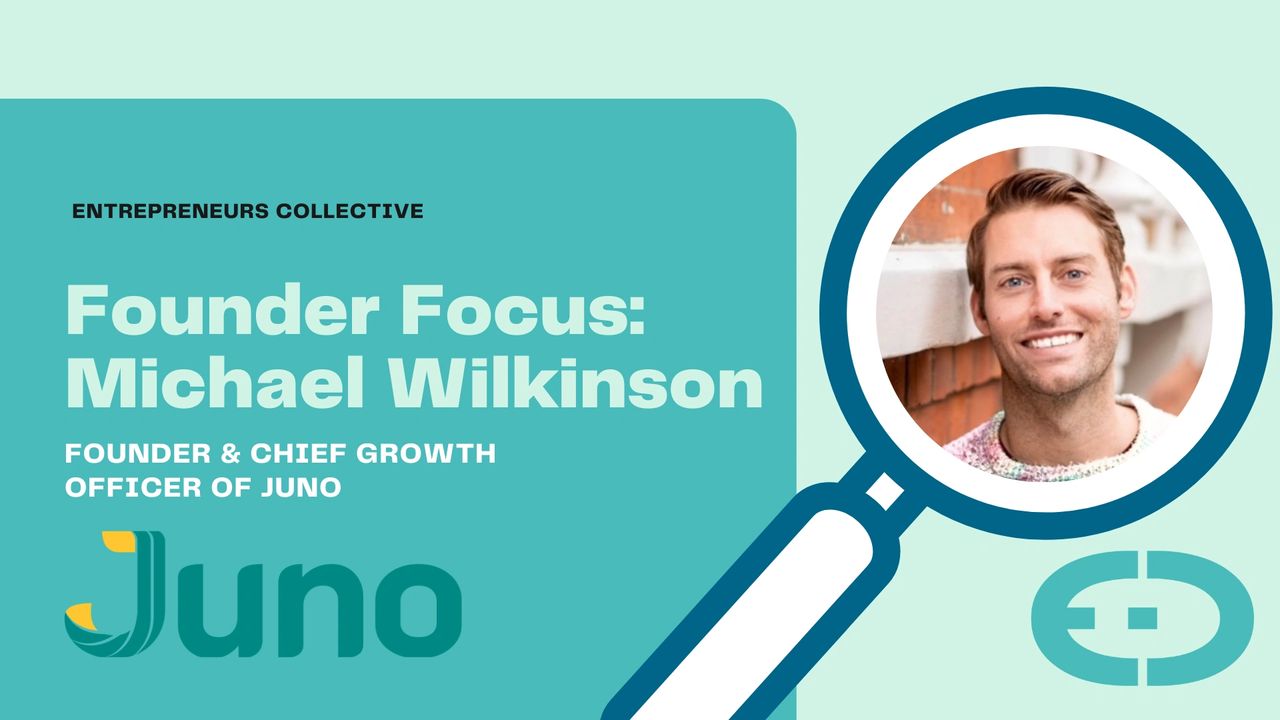 Our community here at the Entrepreneurs Collective is made up of some of the most exciting startup founders in the UK. Our Founder Focus blog series aims to put the spotlight on our founders and their companies. We hope, by sharing these stories, it can inspire others. And, really emphasize what the Entrepreneurs Collective is rooted in – Founders helping Founders. This time our Founder Focus is on Juno.
This week, we spoke with Michael Wilkinson, Founder and Chief Growth Officer of Juno. Read on to find out more about Juno, the most rewarding and challenging aspects for Michael of being a founder. And, the importance of Airplane mode!
What inspired you to start Juno?
I've always been a believer in the power of technology to solve complex financial problems. Over 10 years of working closely with tens of thousands of SME founders at Crowdcube. Consulting and coaching it was clear there was a lot of pain, anger and frustration with payments. And, specifically the frequency of late payments and the knock on impact this had on cash flow and time.
Payments are still plagued by legacy approaches, but the arrival of Open Banking has the potential to change everything. I wanted to shape that innovation and fight for the UK's economic backbone, SMEs. Plus, the opportunity to get the old Crowdcube dream team back together. And more importantly, work alongside Darren and Pete again was something I was excited about.

What problem are you solving with Juno?
Late payments are a massive and increasingly existential problem. Especially, for UK SMEs with around £50bn owed to UK SMEs, costing them £4.4bn per year to chase these debts. And, wasting on average 1.5 hours per day undertaking this process.
We're on a mission to help the world get paid by eliminating payment headaches for sole traders. And, SMEs and putting the power back into their hands. Instead of worrying about late payments, they should be able to focus on what really matters. Whether that's growing their business or just spending more time with their loved ones, we are here to support them.
So how do we do this? With bank payments that work for SMEs, helping them get paid on time. And, more importantly, every time and never chase a payment again. Juno uses cutting-edge Open Banking technology to significantly improve the security and speed of bank-to-bank transfers. They are offering businesses the cheapest and most effective solution to pay and get paid.
What's been the most challenging aspect of becoming a founder?
This is a tough one. The founder journey is always spiked with peaks and troughs. That seems all the more intense when you're incredibly passionate about a cause. On the Juno journey, to date, the toughest bit has been the financial challenges and their implications through the pandemic. We threw a lot of time and resources into the business at the start of 2020. And, raised a small seed round. And, invested all of that capital into building the product, user testing and feedback. None of us were taking a salary. But, had only intended this situation to continue until we had validated the model. And, were able to raise a bigger round in early Summer 2020.
As is often the case, this took way longer than planned, the pandemic drove investor uncertainty. And, we ended up eventually closing the round at the start of 2021. In spite of being well prepared for it. Being told no over and over again was very mentally taxing and pushed my resilience to its limit. Particularly given I had downsized my life. And, was burning through my life savings with the knowledge they would only last so long. Many sleepless nights indeed! Nonetheless, we persevered and couldn't be happy with the rockstar VCs we now have onboard. And, we're all finally taking a salary…though my savings certainly haven't recovered yet.
What's been the most rewarding aspect of becoming a founder?
Hiring! The team we're building is just brilliant. It's so humbling to be able to attract such talent into a business so early on. We already have a community feel, which I know wasn't the case for all businesses during the Covid era. People are the lifeblood here at Juno. Without this wonderful team, nothing would be possible!
How important has it been for you to have a network of entrepreneurs around you?
Being a founder can be a lonely journey. I'm lucky to have some co-founders. And especially, a brilliant and inspiring team with whom to mull over the growth of Juno. Nonetheless, the communities I'm a part of, including EC of course, are a vital part of any successful journey. Bouncing ideas off each other, learning from others successes and failures. And, just having someone to pick you up when times are tough are so important. It's great to be able to give back a bit as well and provide some value.
Who or what has been the biggest inspiration for you becoming an entrepreneur?
To be honest, I kind of fell into it. My first foray into startup life was at Crowdcube. After that I couldn't imagine going to churn out my working life as a tiny cog in a big wheel. Where I am slogging away for a paycheck alone. Over the years I've worked with so many incredible entrepreneurs. Those with a true passion for driving change in an area they believe in. The likes of James and Martin at Brewdog or Adam from Freetrade. And, this aspiration to make a difference becomes infectious over time. I spend my life trying to solve problems, and after a while, it's just a part of who you are.
Where do you see yourself and the company in the next 5 years?
I would like to have truly changed the way the world gets paid. Part of this is in creating better financial futures for people and small businesses. However, being a SME owner is tiring enough and we would like to ensure money is one less thing they need to worry about.
How do you balance your work and life, or have they become totally intertwined?
I think having a balance is important. I've burned out a couple of time. And, it sets you back far further than getting the balance right in the first place. You work to live, you don't live to work. For me, it's important to be able to switch off mentally and digitally. When you're setting aside time to do something non-work related, and vice versa. Airplane mode is a saving grace in this digital dominated world that we live in. I set boundaries within my life and I expect my team to do this as well. To make sure we all retain a quality of life.
When you're not working, how do you like to switch off?
Well in more normal times you'd find me off exploring new countries. And, sampling the flights of different cultures and meeting new people. However, that's less plausible right now. Sport and exercise are what keep me sane, help me relax and unwind. I do a lot of freeletics – running and cycling. But also any sport with a ball – cricket in the summer, hockey in the winter, and everything else in between! I also read a lot, and love dining, drinking and socialising with anyone that'll take me.
---
Thanks to Michael for taking the time to chat with us. This year is looking like an exciting one for Juno, as it grows and continues its mission of revolutionizing ways to pay and get paid. As well as continuing its journey towards becoming a fully certified B Corporation. So if you want to stay up to date with everything they do, check them out here!
PS. If you're a member and want to be a part of our Founder Focus series, get in touch today.