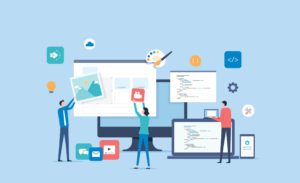 Introduction
At this time, with the growth of the internet and the wave of digitalization, enterprises feel the need to make quick, flexible and resilient responses, to adapt to the new market requirements.
Low-code and No-code were first introduced back in 2014. They are defined as different web development approaches that enable the delivery of applications much faster and with minimal, or inexistent, hand-coding. Moreover, with this visual approach, website-building platforms can automate nearly every step of the development process and streamline builds, while drastically increasing the speed of the process. In other words, with this software, and its drag-and-drop interface, entrepreneurs can avoid the need of writing thousands of lines of complex codes. Just using a low code app development, build complete apps and websites, with modern user integrations, data and logic, quickly generating and delivering the required applications with minimal effort.
Low-code and No-code Statistics
The upward trend is becoming more mainstream each year.
In fact, according to some research from the Romanian Journal of Information Technology and Automatic Control, businesses are now shifting to this approach. It's a solution to the shortage of technical software developers. Furthermore, start-ups are choosing this approach as they feel attracted to the idea of being able to innovate, without needing a Computer Science Degree.
Additionally, a recent Gartner survey discovered how by the year 2024, 65% of the applications are expected to use Low-code approach. Also, research from Statista shared how the global Low-code platform market, with a current revenue of 13 Billion Dollars, is forecast to amount to 65 Billion Dollars by 2027. Undoubtedly, taking a Low-code approach is increasingly becoming the go-to option for enterprises looking to gain the advantages of software, 50-to-90% quicker and cheaper.
Low-code and No-code Types
Obviously, web professionals must choose the right platform, which will satisfy their business' needs.
There are two main areas of Low-code and No-code development. The first one is Design-first platforms, which allow web professionals to create web applications that visually engage users. They usually focus on the design of the website, making it look flawless across all devices. This type is considered to quickly grow its popularity, based on their visual aspects. On the other hand, Functionality-first platforms were built in order to be used as internal tools to
automate IT processes swiftly. They have a strong need for internal systems that help align data, processes and teams. This helps new and existing businesses to better connect with digital customers and rapidly adapt to new tools and changes.
Low-code and No-code development platforms
Low-code Design markets offer to entrepreneurs several platforms to attract more customers and gain more competitive advantage. Each of them target different approaches.
Firstly, Outsystems is one of the most popular. It's used by more than 1200 companies in 52 different countries. It focuses on developing enterprise applications, which are used to develop the core business processes for smooth and constant delivery.
Moreover, Salesforce is another large and well-known low-code platform. It focuses on customer related applications and it's easy to reuse without compromising the customization.
Nonetheless, Mendix is recognized by analysts like Gartner, as one of the leading low-code development platforms. It's designed to achieve rapid development of applications, while focusing on the collaboration between business and IT, improving business logic.
Finally, Apian is smaller, but focuses on the complex processes of business and applications that need high level automation and analysis.
Advantages
Rapid Development/ Faster Transformation
Cost Reduction
Simplicity/ Change easily
Maintainability
Involvement of Business Profile
Minimization of Inconsistencies
Rapid Training
Innovative
Improve agility
Disadvantages
Distrust of Low-code/ no-code abilities
Security concerns
Fragmentation
Software-only systems
Customization
Vendor lock-in
Conclusion
In conclusion, Low-code and No-code website design will only continue to grow, as current businesses keep learning to automate this way, the development process. Unquestionably, this opens the door for start-ups and entrepreneurs who enter the profession of web or app design, without requiring them to waste time learning how to code. Clearly Low-code and No-code will definitely end up replacing standard web-design for the majority of projects. As a result, it will allow technical developers to share their hard-earned expertise and skills with projects that are more complex and require more customization.
It should be noted that at Entrepreneurs Collective, we don't want you to hold back from innovating. Don't let a lack of IT expertise stop you!