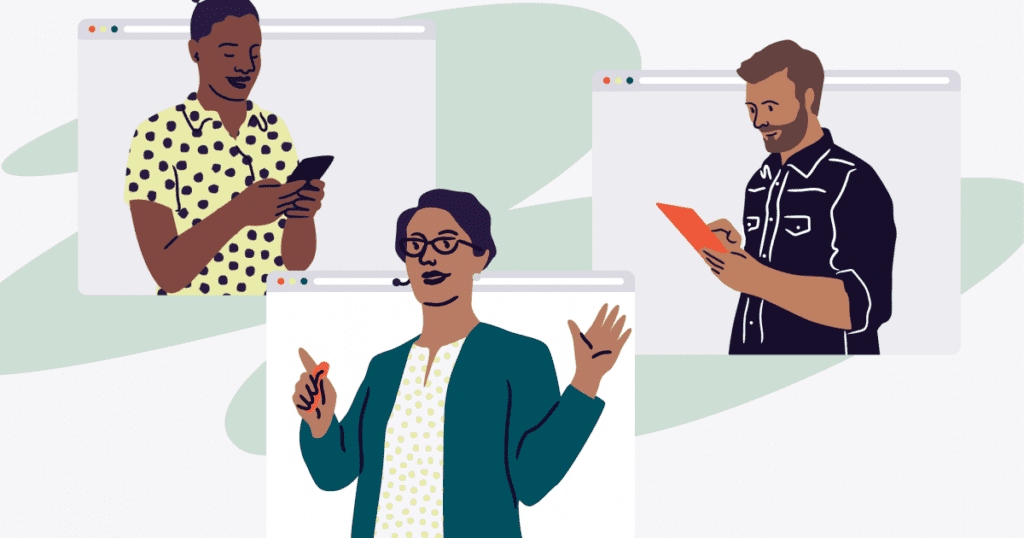 Introduction
The pandemic has changed how we interact, how we engage with technology, and how we will support other enterprises. In 2021, we saw many organizations offer donation experiences that not only sustained a year-plus pandemic, but set new standards for fundraising excellence. At EC, we are forced to change, innovate and adapt. However, it's Important to reinforce the need for companies to continue offering these tools. Therefore, we should keep on finding creative ways to engage with donors and host virtual events. It helps the nonprofit sector connect to donors successfully, without physically being in the same place. Moving forward, peer-to-peer fundraising will keep evolving. Below, we look at fundraising trends expected to define fundraising in 2022.
Hybrid Events
The amount of people who love the convenience and inclusivity of an online event, keeps increasing. However, there are still people who love the togetherness and excitement that a live fundraising event offers. In fact, these are expected to return in 2022. Consequently, the line between in-person and virtual events will be blurred, which is why hybrid events will be one of the fundraising trends for 2022. Putting the two together can be a headache for organizers, but worth it for audiences, who get to choose what works for them. It brings benefits such as overcoming geographical limitations or increasing audience reach. Also, it limits travel costs, amplifies voices that may feel more comfortable over screen and builds lasting relationships. Hybrid truly offers the best of both worlds and it's relatively simple.
Technology-Driven Experiences
Hybrid events must do more than simply livestream. Participants expect more from the fundraising event experience. Fundraisers are looking for ways to stage top-notch events for all participants, regardless of whether they are together in person or online. This includes finding ways to engage and give participants the best experience possible. Technology-driven experiences will continue to bring causes even when we're in person, shaping the way we connect with donors. Some technology-driven experiences are NFT auctions sold by NFT artists, mobile bidding on cell phones, native streaming via zoom or YouTube or text communication, to chat or poll.
Year-round Campaigns
People love to choose how to participate in an event, and also when to do it. As a result, campaigns are becoming more flexible time-wise, and one of the biggest fundraising trends for 2022. Time passes, and different programs keep innovating to make processes be more flexible and smooth the access. That's why year-round campaign is another fundraising trend for 2022. Enterprises get to interact with participants and offer activities and fundraising challenges throughout the whole year. This provides more opportunities to meet supporters wherever they are and whenever they want. Moreover, it can inspire many supporters to raise more money. For example, if you are busy the first month of the campaign, you get to choose from the eleven months left.
Artificial Intelligence (AI)
Automation will provide several benefits in the sector, especially for companies that face shortages of staff. Automation is an essential element that allows staff and volunteers to prioritize more creative tasks, and minimizes expenditure. AI works by analyzing data, so we can target in a better way fundraising campaigns . Also, it denotes essential patterns, follows trends, and uses that information to make decisions that better fit customers needs. In addition, it facilitates easy routes to effective fundraising and innovative methods of service delivery. The best example is Chatbots, which use natural language processing to minimize customer service interactions and provide information 24/7.
Social Media
It seems almost too obvious to mention, but social media continues to dominate marketing activity. Companies will need to meet supporters on their own turf, which involves the development of a social media strategy. Therefore, companies should prioritize the social channels used by its target audience to reach a lot for fundraisers. This includes an improvement in social media etiquette and output, especially on platforms that best suit their needs. Don't get stuck on the classics. Do your research, learn about all platforms, discover the emerging ones and get creative. Last but not least, don't miss out on email marketing. It results in one-third of online fundraising revenue, according to Statista. It offers personalized attention to your audience, as you get to directly send them news and updates about your company.
Digital Donations
Fundraising will be easier and more automated. Alternative currencies and payment methods will have a big impact in 2022. Convenient digital wallets, like Google Pay and Apple Pay, Hybridization of campaigns, Cryptocurrency or Trusted payment apps, like PayPal and Venmo, will offer a variety of options for donors. The more options you have, the more likely they are to give. Other popular methods for non-contact payment are scan/text to give, cashless donations or blockchain, which facilitates global and secure payments easily.