High-performing lead-generation website is key to generating new clients and customers for your startup. A great website can have 1000 visitors a day. but if they do not respond to the 'Call to Action' on your page, that website is a flop. By surveying the market a startup can create a website with the best graphics and animation. Yet they forget to optimise and provide scaling features resulting in rebuilding their website.
Information via Julia from Incisive Edge, Marketing Webinar
8 must-haves for a successful lead-generation website.
Creating The Buyer Persona
It is fundamental for a high-performing lead-generation website to target relevant customers. To do this conduct research into the type of individuals that will be your clients. To create a customer profile the best start is the exercise of creating a 'Buyer Persona'. This is a qualitative analysis of the client. To create a buyer persona you should research the pain points, challenges, objections, triggers, goals and needs. Once this is complete you should use this information to look for patterns. This information wills show the type of person visiting the website and motivate them to stay.
The exercise allows for a measurable approach to website design and a high-performing lead-generation website. In the event of success or failure, having this record will ensure good business practise.
Nailing the Value Proposition (VP) for High Lead Generation Outcomes
The average user decides in 7 seconds how long they will stay on a website or bounce. This means you have to nail who you are and what benefit you will bring to them. Failure will result in the prospect leaving, so you must Nail the value proposition of your page to have high-performing lead generation website.
Take 'Trello' as an example: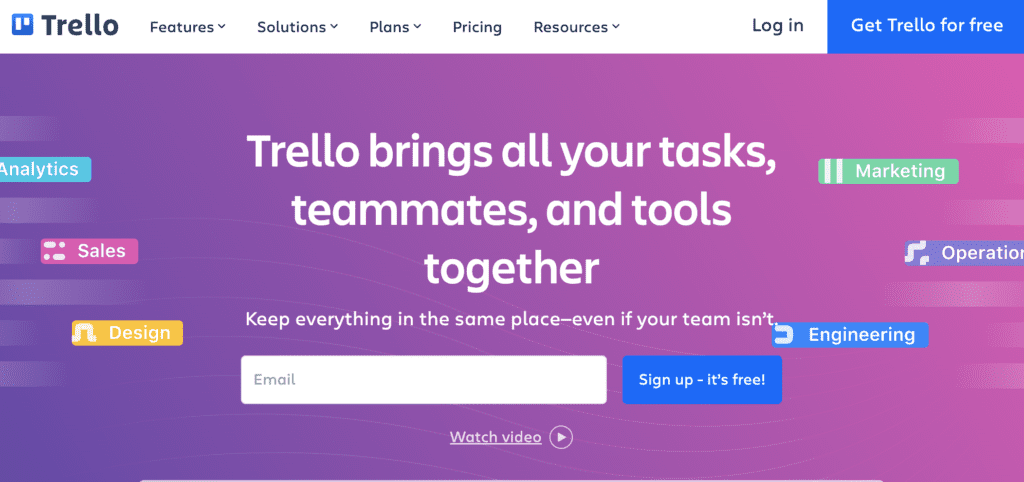 The Value proposition is in the front and centre. The smaller writing is the Value Proposition by demonstrating the solution they offer.
Incisive Edge recommends this framework:
1. Begin by giving a short and snappy bio. This is your introduction, tell them your name.
2. Provide a Value proposition. Your solution to the pain they have.
3. A clear call to action – A sign up button so you can close them.
A simple Customer Journey for Lead-generation.
Consider the journey on your website as a narrative. All high-performing lead generation websites follow a simplified story-line of:
1. Awareness, do they understand the problem?
2.Consideration, do they understand the solution?
3.Decision, Sale or no Sale?
This is not easy. It requires excellent storytelling skills. Consider the template of a Hero's Journey. The Hero, the client, is faced with a problem, the pain point. In search of a solution the hero finds a mentor, your product / service. The mentor awakens the heroes' call to action, the sale. This simple story forms the basis of many successful websites.
It must be done in three snappy sentences. That's the challenge. In those 3 lines you must: illustrate the problem, stated a solution and pitched a product/service.
Simplification is key to success, almost as if a child can comprehend the purpose of the website.
User experience
Many websites are too focused on branding and design. This includes fancy graphics that do not particularly aid in the story-telling of the website. A good user experience compliments the storyline and can contribute to high lead generation.
A Clear Navigation Structure for a High-Performing Website
A good user experience and user interface require clear information architecture. This means a high-performing website should have information that is accessible to the client from the first few clicks. Website design allows for their initial questions and pain points to be addressed quickly and efficiently.
Simplicity plays a key role. Websites that have clear drop-down menus and site maps have a clear navigation structure. Additionally, these websites are optimised for scale and less expensive in the long run because they are adaptable.
Building credibility wherever possible for new lead generation.
As a startup, customers and clients want to know if you are real. It is difficult to define real. Some have tried to use reviews to demonstrate realness. Reviews can be faked, so clients want authenticity visible clearly and communicated effectivley on the website.
Incisive Edge suggests having the following that demonstrates authenticity:
1. Cases studies of your projects
2. Data points, how you can quantify your success.
3. Your family, team members of course, putting a face your organization builds trust.
4. A privacy policy
5. Your address and telephone number
Website Search Engine Optimisation (SEO) & Content Strategy for High Performance
SEO and Content Strategy are what get you noticed. You need domain authority with a reasonable trust score. Undertake some keyword research by looking at what your customers are looking for on search engines such as Google. Optimise each page for a single keyword. The keyword should be in the heading, with a description in the subheadings.
SEO strategy for a high-performing lead-generation website:
Do not expect immediate results. SEO is a 13 month strategy, but here are the indicators for success:
0-6 months: Lay the new rules, little to no gains expected.
6-9 months: Leads gain traction, slow growth.
9-12 months: Leads increase, steady growth.
13th month: Plateau, constant number of organic leads.
Creating Lead-generation through Forms
Remember the call to action, do not make the mistake of asking too much information. Information drives the lead but can only be successfully obtained relative to the stage of the funnel your client is at. Generally, the lower down the funnel the greater the success or reediness of the client in providing information.