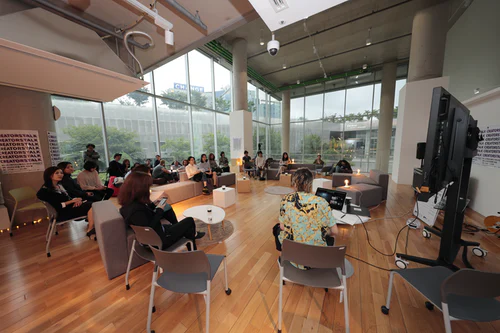 Introduction
A workshop is a brief intensive educational program for a group of people, that focuses especially on techniques and skills in a particular field. In other words, it's a form of lecture where several professionals, in a particular field, meet with a group of people from the same profession, to engage, interact and discuss certain problems. This will involve intensive discussion and research on the specific topic. Therefore, the purpose of these free workshops for startups, is to gather all these people, already related to the topic, to teach them and increase their expertise on the matter. They will do it by providing them with new information and knowledge.
As a result, these are perfect for learning, as they introduce a new concept to participants. It gives them the opportunity to investigate it further on their own, and demonstrate the practice of actual methods. It's a great way to teach hands-on skills, because it offers participants a chance to try out new methods and fail in a safe situation.
We shouldn't mistake a Workshop for a Training. The key difference between both is that training is the action of 'teaching', until participants achieve the desired goals. Whereas in a workshop, the group will 'engage' in different discussions. Furthermore, training sometimes comes as an obligation from employers to improve job-related skills, while workshops tend to be more voluntary.
Here at Entrepreneurs Collective, we offer, at no cost, different types of workshops, for any individuals out there who are looking to improve their knowledge on any of the topics, and especially our members. Check our Eventbrite profile to learn about our next exclusive events.
The advantages of doing or participate in a workshop include:
Participants are a lot more motivated. If they chose to do it, it's because they really want to learn.
Participants will get a broad and in-depth theoretical explanation of these problems.
They are affordable. At EC we offer free workshops for startups, but normally, in other companies, these are relatively cheap compared to running full-length courses, or paying staff to attend events elsewhere.
They can be inspiring and a chance to try out something new, without pressure to agree with it, or succeed at it immediately.
We can do them in-person or online, which makes it perfect for the times we are living nowadays.
On the other hand, it brings some disadvantages too, like:
Workshops welcome everybody, which sometimes includes people with no skills or knowledge, making discussions a bit more challenging.
The topic chosen may not be relevant to all participants. For example, it might be a Marketing workshop, but marketing is a very broad field.
The content may be quickly forgotten, or it may be difficult to understand well enough to put into practice.
May be hard to fit everything that you want to cover into a single workshop.
How to do a Workshop
Conducting workshops seems like quite the job, but if you follow every step correctly, it will be a lot easier. Even for first-timers. At EC we are quite the experts and we are happy to share this summarized guide.
Normally, managing a workshop consists of 4 phases. These are:
Planning
In this phase you basically decide what it is that you want to achieve with this workshop, I mean, what's the goal behind it and how you are going to achieve it. Firstly, decide on the topic. No matter how interactive and participatory your workshop will be, you still have to have a good command of what you're presenting. Doing research and looking for some trends might help you decide.
Moreover, target your audience. The people, who will actually be part of the workshop, is probably the most important thing, and you must understand and meet their needs. Knowing who will attend directly relates to your objective.
In addition, prepare the presentation and decide the structure you are going to follow. Remember to keep it smooth and interesting, but first, agree on the size of the workshop, which normally varies between 45 mins and 3 days. To help with the structure, you can create an agenda to better organize yourself. Here you would summarize the main points of the event, visual aids and the activities included.
Preparation
While planning is about the delivery of the workshop itself; preparation is about making sure you have the actual stuff and time you need to make the workshop a success. Where is the workshop going to be conducted? What's the equipment needed? Do you have a Plan B for any contingencies that may occur? Are you mentally prepared?
Implementation
Planning and preparation are done. Now all you have to do is the actual workshop. Generally, the workshop starts with an introduction, which covers the time from when the first participant walks into the room, to when the host introduces him/herself and the topic to discuss. Then he/she carries on with the Substance of the workshop, which includes the presentation and activities. Finally there is a closure, which involves review, reflection, evaluation, and ending.
Follow-up
Follow up with participants, after a workshop, is important to get some feedback, so you can improve it the next time. In addition, you can use this phase to tie up some loose ends, such as sending anything to participants after their participation. Also, share final notes, thoughts, feedback on the topic discussed. Finally, evaluate your own work. What do most people think you might have done differently? What areas seemed particularly strong or particularly weak?
Click here to check on our next free workshops for startups and exclusive events!