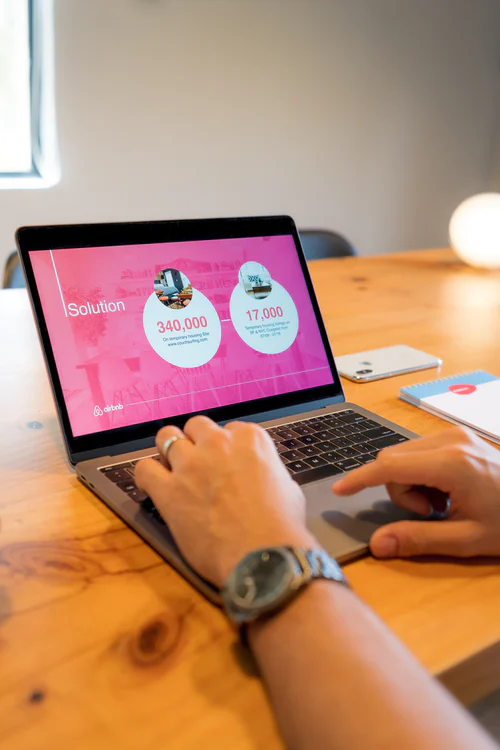 Introduction
Why do you need a pitch deck review? As defined in our glossary, a pitch deck is a brief presentation that explains your company to an audience, normally investors. It's the first step to obtain the finance your business needs to succeed. You'll want to pitch investors on a concept that piques their interest and encourages them to connect with you.
A pitch deck is a set of slides that helps you convey a captivating tale about your company. You may make one with conventional programs like PowerPoint, or you can utilize a contemporary application like Visme to make one right away. Every aspect of your business is crucial to you as a founder. The finest pitch decks, however, are those that are brief and easy to follow. A concise and emotive pitch deck is essential when competing in a pitch competition for example. Here the intense time pressure, the competition from other competitors to capture attention and win over the audience and judges make having a slick pitch deck invaluable.
Pitch Deck Review
At EC we know the importance of having the best pitch deck. That's why we offer pitch deck reviews to all our members. To ensure they follow the right steps and put the right information. We've seen hundreds of startups so, our expert consultants and startup investors will revise and review your deck to provide unique insights and ensure your funding. A winning pitch deck with a clear financial narrative and strategic storytelling is a must before approaching angel investors, or venture capitalists, and raise funds for your startup. It's the best way to win their heart.
However, this is not an easy task. Investors need to understand the idea and values behind your business, during the slides show, and it should include everything they are looking for and would like to know about your brand. To ensure you are heading to the right direction, we offer:
Expert Advice
Entrepreneurs Collective is one of the biggest founders/investors community in London, and the UK's number 1 Founder-focused event series. Therefore we've worked with several companies at Pre-seed, Seed and Series A/B/C levels. This gives us all the expertise needed, in order to give the best advice when it comes to a pitch deck.
Deck Review
We believe there is a structure that must be followed in order to create the best deck. First of all, it must target the right audience. Many of the decks we are asked to review are for the purpose of raising money. Whether it's aimed at investors, competitions or conferences, the goal is the same, but the audience changes and your deck should adapt to all.
Secondly, we must check the timing. Normally, a deck shouldn't take more than 20 minutes to read (4-10 minutes in a competition). Therefore it should follow a smooth format. For example, avoid multiple points into a single slide, nice consistency and readability of text, sufficient white space, correct use of color and fonts, etc.
Thirdly, how is your business story portrayed? Is it clear and compelling? Is it concise? Does it make sense? Do the slides reinforce the story or are they redundant and/or distracting? Does the pitch make clear not only the problem and solution, but who the customer is? The founder should be able to tell the story smoothly without notes and without slides. This is really important while conducting a pitch deck review. The slides should reinforce major points in the story, not simply reiterate it. Back it up with great evidence or citations to improve its credibility and trust. Each slide should tell a part of your business story. Avoid the fanciness or needless information. It will distract the audience and waste everybody's time.
Pitch Feedback
Once we finished the pitch deck review, we'll discuss with you the highs and lows of it, over a call or a report. I mean, the improvements needed and some advice to make it more appealing. In other words, actionable recommendations that can improve your presentation immediately. Even if you don't agree, we can debate over a call the reason why we feel like that and maybe understand your point of view.
In conclusion, a pitch deck is a critical tool in raising money for a business, and it's only the first step in the process. Therefore it must be done right or the whole process will be doomed. Click here to join EC now and let us assist you to avoid that and help with your fundraise.