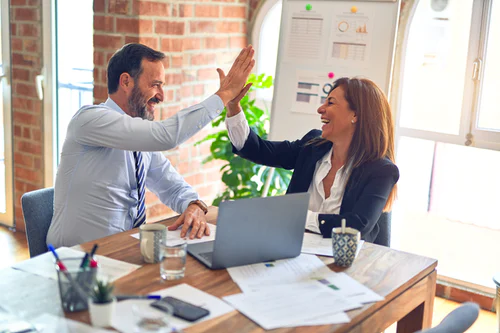 Introduction
Having the support and guidance of a startup business mentor can be of great value to any startup business. As the saying goes, "We all need someone who inspires us to do better than we know how." With just a few hours a month, they can guide and support promising entrepreneurs on their journey from startup, to a profitable business. Therefore, a startup mentor is somebody with experience, expertise and willingness, who gives advice to founders, in order to help them grow with fewer mistakes and wrong turns.
Many successful entrepreneurs, such as Mark Zuckerberg, Jeef Bezzos and Steve Jobs, had mentors. Surely, their businesses would have been really different if they hadn't had one. No matter who you are, where you've come from, or what you have achieved, a good mentor is an invaluable asset in business. In the entrepreneurial world, this figure provides the new entrepreneurs with the security to take their first steps and improve their positioning. They are a source of knowledge and support who dedicate their time and experience to guide the development of the business and of its entrepreneurs.
Nowadays, the use of startup mentors is becoming more and more popular, and founders can find them in countless places. For example, networking events and competitions, or business development, and industry centers. In addition, this century's best friend, the internet, can help you find the best mentor for your business. Using social media or apps, and websites like Score. Finally, it should be remembered that here, at Entrepreneurs Collective, we also provide access to industry experts and mentors
A mentor must not only fulfill their executive functions, but also understand the process and evolution of the project. Nowadays, there are all sorts of mentors out there. Below there are a few situations when having a mentor can save you months of work, or decide the future of your startup.
1.Experience and Perspective
There are a lot of things to learn if you want to become a founder. Mentors can help you to build the right business model and put together the right team. Their experience is their most valuable asset and their guidance and inspiration will allow startup members to grow. You can learn from their previous mistakes and successes. However, always remember that they won't lecture you and say what to do and what not to do. Instead, they'll mentor you by saying why something might be a good or bad idea. It will always be your business, not theirs. They will offer different points of view that you might never considered before, opening a whole new business perspective.
2.Support
Having a mentor also means having somebody to rely on, in the long run. The relationship with your business mentor can be a long-term engagement, where you will always have someone to support you and discuss your ideas with. Trust is extremely important. They have no ulterior motive, and combined with their experience and other qualities, this creates a good foundation for trust.A good mentor will find a way to make you see your flaws and help you fix them. It isn't just about criticizing you.They are honest, not mean. As they become more and more efficient, they get more and more familiar with you and your business.
3. Networking
When it comes to business, networking is extremely essential. Doesn't matter the industry or local market. Therefore, even if you are busy, you should make time to identify the best connections out there and reach out. A business mentor with good connections will increase the chance of you getting introduced. Through years of work they have built strong networks and most are in contact with many CEOs, CFOs and leaders in different fields. You can leverage your mentor to expand your network for creating potential opportunities. Therefore, they may help you find a new investor, which also helps you to fundrise, team member, employee, or even another mentor.
In addition, they can teach you how to network and tell you where to search.
4.Money and time saver
While good coaches and consultants may be able to offer some things that a mentor doesn't, it almost always comes at a price. On the other hand, mentors are readily available, and sometimes free of charge. In addition, their help will save you money and time, as they prevent failures from occurring, and with their advice, the risk of stumbling on easily avoidable situations decreases.
5.Decision Making
Founders sometimes have to make quick decisions that determine the survival or death of your business. With the help of a mentor, you'll have a bigger chance of making the right decision and minimize the consequences. They will challenge your thoughts, ideas and approaches, which is important as it will help founders to fully open their minds.