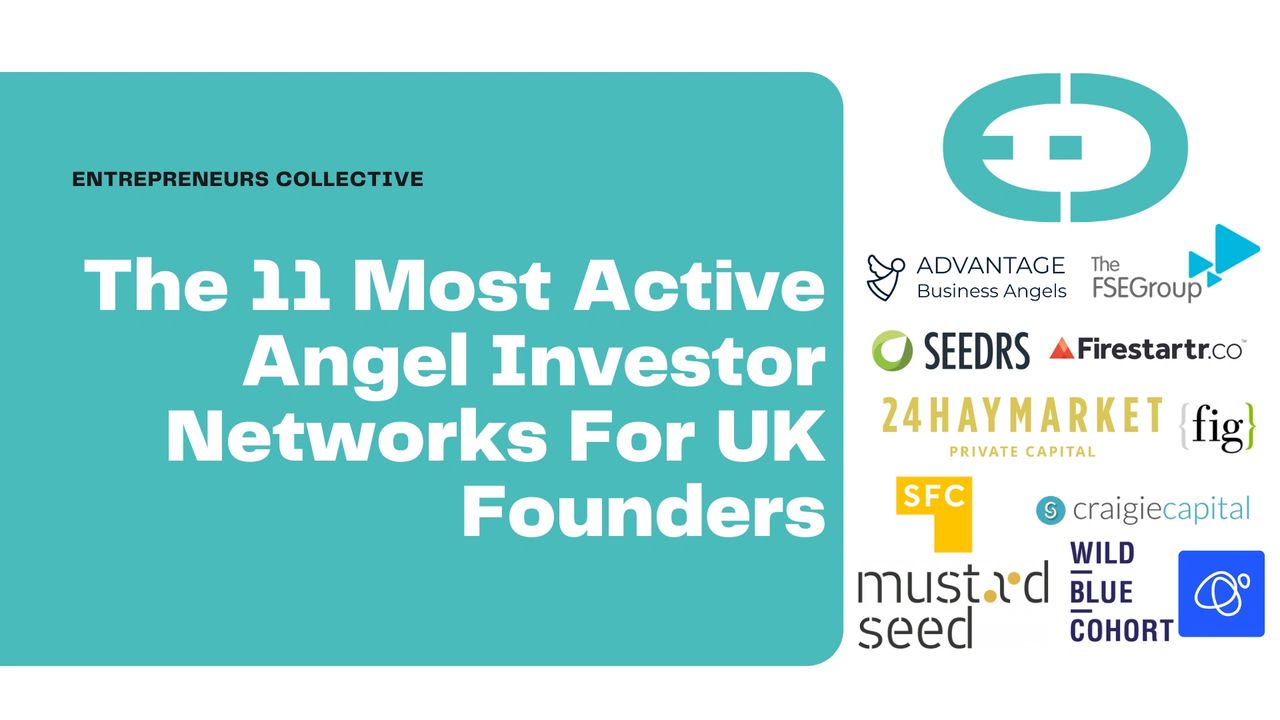 Angel Investors in London are harder to find that you might think! While London is full of Angel investors looking for their next big opportunity they often don't have a big public presence. Unlike VC funds who frequently generate headlines, have big corporate offices and superstar principals angel investors have a much lower profile. Sometimes this is by choice, they don't want to be spammed with low quality pitches, other times it's just because their circle as a solo angel or even a syndicate just isn't that big. See our list below of some of the most active Angels in London plus our bonus source Beauhurst.
The most common ways for startups to find Angel investors in London are pitch competitions, LinkedIn searches and personal contacts, but there are a couple of less known techniques as well!
Beauhurst Reports
Beauhurst is the most comprehensive database of investment deals in the UK and not only do they tell you who has invested in your sector before, at what ticket size, at what valuation and the equity stake they took. This incredibly valuable tool is normally out of reach of most startups requiring an annual commitment and thousands of pounds in costs. This makes sense for larger clients who are looking at broad sectors, market trends or multiple verticals with tens of thousands of data points, but is overkill for a startup focusing on their niche. That's why here at the Entrepreneurs Collective we are able to produce sector specific reports focusing on the top few hundred most relevant to you. If you are looking to raise 100k to 2Million talk to our team today about getting a Beauhurst Angel report.
Advantage Business Angels
Advantage Business Angels have been successfully matching investors with entrepreneurs, that also since 2003. Firstly, the team's knowledge & skills in early-stage equity investing stem from nearly 200 years combined commercial experience acquired in owning and managing SMEs, banking, software development, publishing and property finance.
Sector Focus – SaaS, Fintech, EdTech, MedTech
Typical Investment Size – £25,000-£300,000
FSE Group
The FSE Group provides tailored funding solutions and support for ambitious and innovative small and medium enterprises.
Sector Focus – Sector Agnostic
Typical Investment Size – £50,000-£2m
Seedrs
This is the leading online platform for investing in the equity of startups and other growth companies in Europe and has been named the most active investor in private companies in the UK. Lastly, Seedrs allows all types of investors invest in businesses they believe in and share in their success and allow all types of growth-focused businesses raise capital and business community in the process.
Sector Focus – Sector Agnostic
Typical Investment Size – £85,000
SFC Capital
Early-stage investor combining its own angel investor network & seed funds to provide investors with diversified exposure to SEIS/EIS businesses. By combining its Angel Network and Seed Funds, SFC has created a unique model that allows investors to get exposure to SEIS- and EIS-qualifying businesses, either directly or through a diversified portfolio curated and managed by SFC's expert team.
Sector Focus – Sector Agnostic
Typical Investment Size – £100,000-£500,000
Fig
It's a venture capital group providing a pragmatic new approach to supporting and investing in high-growth early-stage companies. Since inception, Fig brings together exciting early-stage companies and investors with relevant industry experience. An experienced management team and advisory board carefully select companies before taking them to Fig's network of investors.
Sector Focus – Sector Agnostic
Typical Investment Size – £500,000-£5m
Mustard Seed
Mustard Seed invests in and incubates socially and environmentally impactful start-ups. Since the first run, they connect a dynamic and influential network of global members with exceptional entrepreneurial talent across the world. They also develop bespoke impact measurement frameworks and support established companies to align profit and impact through tailored strategies and effective deployment of their resources.
Sector Focus – High Growth Impact
Typical Investment Size – £300,000-£2.5m
Wild Blue Cohort
Wild Blue Cohort is an angel investor network in London who finance the development of early-stage ventures. Often, they invest alongside top-tier S/EIS Funds, accelerators and VCs, such as Passion Capital, LocalGlobe VC, Forward Partners, Octopus, Downing and Horizon Ventures. Wild Blue is a member of the UK Business Angels Association.
Sector Focus – Food, Fintech, B2B and B2C Enterprise, Media, Real Estate, Healthcare, Education
Typical Investment Size – £150,000-£1.5m
24 Haymarket
24Haymarket is an angel investment network that included several highly-experienced private equity and venture capital investors, seasoned entrepreneurs, and senior operators. Investing up to £5 million in growth companies in the UK and Europe. Firstly, they invested their own capital in direct alignment with entrepreneurs and actively support their growth agenda and join the board of the companies in which they invest. Since inception in 2011, 24Haymarket has invested in more than 50 high-growth businesses.
Sector Focus – Healthcare, Industrial, Consumer, Technology, Media
Typical Investment Size – £1m-£5m
Angel Investment Network
Angel Investment Network is a London-based investment company founded in 2004 whose aim is to connect entrepreneurs and investors. Globally, they have 35+ angel networks worldwide covering over 80 countries. Lastly, they have over 150,000 investor members and over 600,000 entrepreneurs have signed up to use their services.
Sector Focus – Sector Agnostic
Typical Investment Size – £10,000-£10m
Firestartr
Firestartr helps the most promising digital entrepreneurs take their companies from seed stage to Series A and beyond. Beyond providing capital, they draw on their entrepreneurial successes and senior operational experience with leading technology companies to support sustainable growth in their portfolio. Lastly, their deep domain expertise, combined with an unrivalled angel investor network and network of advisors, enable Firestartr to make meaningful connections at the right time and propel companies with hands-on support.
Sector Focus – SaaS/Cloud Infrastructure, Digital Media, Fintech, E-Commerce/Marketplaces
Typical Investment Size – Up to £2m
Craigie Capital
Craigie Capital builds, accelerates and invests in early-stage technology startups. Established in 2010, Craigie Capital has experience across finance, enterprise sales and technology. Based in central London, they have invested equity in over 30 companies across the technology scene with a particular focus on high-growth and scalable startups in the following sectors.
Sector Focus – FinTech, Big data, Cyber-security, Regtech, SaaS, SME's
Typical Investment Size – Up to £500,000
And a quick mention for…
Alator Capital
Alator Capital is the fundraising arm of the Entrepreneurs Collective (EC). Firstly, the aim of Alator Capital is to help startups grow through investment. Secondly, to do that, Alator utilises its Angel Investor Network and network of VCs Family Offices and Seed Funds, alongside its deep-rooted connections with startups, to create a bridge, connecting the two and making fundraising a more efficient process. And lastly, they want to help you rebalance negotiations with investors, VCs and Private Equity, ensuring you get the best deal possible. If you are looking to raise SEIS right now you can speak to a member of the Alator Capital team for free for any advice or questions you might have!
Sector Focus – Sector Agnostic (SEIS/EIS experts)
Typical Investment Size – £250k for SEIS, £2Million Plus non SEIS
Pitch Competitions
Pitch competitions are a fantastic way to get in front of a large number of Angels, HNWIs and VCs all in one go. Pitch competitions are normally judged by experienced investors, often with a special interest in the sector or industry around which the pitch competition is themed. There is also a wider investor audience attending to watch for new deals and network with other Angels. At The Entrepreneurs Collective we have regular monthly pitch competitions with our angel investors in London and streamed online to an even wider audience.